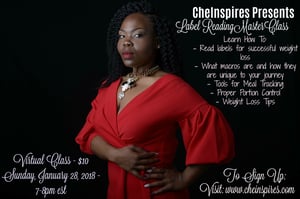 $

10.00
Sign up for Virtual Label Reading MasterClass. This is a virtual class! You can be anywhere in the world and connect with me in this class!
Weight loss is 80% what you eat, 20% what you do. Sign up for this effective class that will aid you on your journey.
This class will include:
Open forum where I teach you to effectively read labels
Make the right food choices for your body
Online tools that you can use for effective weight loss 
Proper portion control tips
Weight loss tips
After signing up, you will receive a link to join a live web meeting! Purchase your ticket here.
Once the class is over, you'll have the knowledge to effectively read food labels and create your own meals plans based on how you should eat for successful weight loss! Online tools will also be emailed after the class is over for reinforcement!